Club Archives Store
Archives quick search index:
Communication Highlights:

Google's Chrome Browser Ver.34 Reviewed
Google Chrome is today's most popular browser in the world, managing in early 2014 to capture little over 42% of world's non-mobile browser usage, easily beating all of its competitors in the likes of Internet Explorer (18%), Mozila Firefox (15%), Safari (6%) and Opera (2%).
This complete domination was achieved not only by smart utilization of the WebKit rendering engine that enabled Chrome to be imbued with incredible speed, stability and ability to be run on old computers that had slow hardware, but also streamlining of user interface and introduction of advanced features that enabled all users to easily take advantage of numerous Google cloud services (cloud hosted bookmarks, profile info, full integration into Google infrastructure, including Gmail, YouTube and more). But, even though all these features were present, Chrome was very distinct in constantly trying to maintain its simplistic interface and feature set.
So what can you expect if you decide to start using Chrome browser today? You can expect incredible speed that was built on one of the world's fastest JavaScript processing speed, fully-supported ability to customize your browser via 3rd party extension marketplace, instant syncing of your browsing sessions between desktop and mobile, and free access to up to 15 GB of online storage with Google Drive (sizes may change depending on current promotions).
Source: filehorse.com
Google's Chrome Browser Ver.5 Reviewed
Following on from the success of their Search Engine and Gmail application, Google released their Chrome version.1 browser less than two years ago. Developing quickly, version.5 was only released in May. Like their search engine, Chrome is uncluttered, leaving a large viewing window, but still packs more features and greater speed than other popular browsers.
The first surprise is Chrome's minimal interface, featuring a thin toolbar but no menu or status bars. And where the website address box also serves as Google's powerful search engine entry box. At the top left of the toolbar are webpage tabs, any number of which can be set to load at startup. Tabs that are used often can be "pinned" and miniaturised to save space as shown. You can easily rearrange the tabs by dragging, even bringing them down onto the page if you wish. Clicking the "+" button (not shown) or short-cut Ctrl+N opens a new window displaying "thumb-nails" of the eight most recently visited sites plus browsing history going as far back as you want. A back, forward, reload, home and bookmark button complete the basic controls.
On the other end of the toolbar, are two icons with drop-down menus. One is the "current page control" enabling common tasks like Cut, Paste, Print and the nifty Find box extension - short-cut Ctrl+F - as shown. Other tasks including "Create application short-cuts", zooming and Developer needs are also listed here. The spanner icon on the right allows you to "Customise and control Google Chrome" using a wide variety of choices. This is where you can open an "incognito window" plus hide or show a bookmarks bar - short-cut "toggle" Ctrl+B - as seen here. You can also check browsing history, manage bookmarks, downloads and more. Clicking the "Options" feature presents another range of choices including setting default "home" and other "startup" pages, adding passwords, etc.
There are also plenty of add-ons available to further customize Chrome if you wish, such as selecting from a multitude of bright modern themes to suit your personality. I have installed one - a Gmail Checker that is currently indicating I have one new message. Clicking on this button now takes me directly to my Gmail account for a quick response.
As an added bonus, Chrome version.5 is already compatible with the latest proposed W3C web standards and was the first browser to pass the demanding Acid3 test with a score of 100! Don't be left behind - download, install and try Chrome now - you'll be glad you did! jl
What is a portable app?

A portable app is a computer program that you can carry around with you on a portable device and use on any Windows computer. When your USB flash drive, portable hard drive, iPod or other portable device is plugged in, you have access to your software and personal data just as you would on your own PC. And when you unplug the device, none of your personal data is left behind.
No Special Hardware - Use any USB flash drive, portable hard drive, iPod/MP3 player, etc.
No Additional Software - Just download, run the portable installer and go.
No Kidding - It's that easy. Click image to LEARN MORE...
USB On-The-Go
Due to its widespread acceptance, USB is becoming the de facto industry standard for connecting peripherals to PCs and laptops. Many of the new peripherals now using USB are also portable devices.
As these portable devices increase in popularity, there is a growing need for them to communicate directly with each other when a PC is not available. The On-The-Go Supplement addresses this need for mobile interconnectivity by allowing a USB peripheral to have the following enhancements:
Limited host capability to communicate with selected other USB peripherals
A small USB connector to fit the mobile form factor
Low power features to preserve battery life
Source and more information is available here..
Thunderbird 3 Beta 1 Preview Release

Released: December 9, 2008
Thunderbird 3 Beta 1 is now available for download. This milestone is focused on testing the core functionality of the new features and platform changes that will be included in Thunderbird 3. Thunderbird 3 Beta 1 includes new database technology that will make it possible to build fast new ways of navigating mail. For more background and for previews of experimental add-ons, visit this blog post.
New features and changes in this milestone that require feedback include:
Tab interface for Mail
Improvements to IMAP for faster message viewing
Improved message reader view
New Add-ons Manager
Improved Address Book interface
Improved import of mail from other Mail clients
Integration with Windows Vista search
Integration with Mac OS X Address Book
Downloading
Please read the release notes before downloading for more information about this release including known issues.
Testers can download Thunderbird 3 Beta 1 builds for Windows, Mac OS X, and Linux in 38 different languages. Ongoing planning for Thunderbird 3 can be followed at the Thunderbird 3 wiki and on mozilla.org in #maildev.
Note: Please do not link directly to the download site. Instead we strongly encourage you to link to this Thunderbird 3 Beta 1 milestone announcement so that everyone will know what this milestone is, what they should expect, and who should be downloading to participate in testing at this stage of development.
Source: Mozilla Messaging
Digital Photography

Infinity backgrounds
Photograph small items like a Professional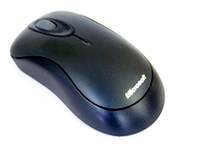 Sometimes you may want to photograph small objects without showing distracting backgrounds, glaring highlights or harsh shadows. Now with the aid of "instant" backgrounds made quickly from common home office items, you can easily produce high quality pictures without the expense of special studio equipment.
For demonstration purposes, this wireless mouse was photographed on an instant background using natural lighting from a single window. An even better image could have been produced had the camera been set on a tripod and adjusted using a variety of advanced capture settings.
The instant infinity background was constructed using six sheets (for stability) of standard white copy paper and four paper-clips.
All sheets are clipped together with two clips attached about one third up from the bottom. Another two clips are attached near the top of the sheets. By carefully sliding the top clips together with the rear three sheets down towards the bottom, a self supporting curvature is formed as illustrated.
Simply by positioning this or a coloured background with consideration to the light source and camera aspect, an infinite variety of subtle highlights or shadows can be achieved.
An even simpler 3D background can be made using just 1 sheet of paper, and 1 paper-clip.
In portrait view, from a spot (about 20 minutes past the hour) tear to the centre of the sheet. Next, overlap the torn edges anything up to 90 degrees and use a paper-clip to hold. The over-lapped section now forms the base of your instant self supporting corner background. This provides even greater scope for extending your mastery of small item photography.
While lighting is beyond the scope of this article, I must mention having successfully photographed many small items outdoors by shooting within fully shaded areas while using these simple backgrounds. As always, the naturally diffused light from early morning and late afternoon sun normally produce the best results.
John Lucke
Genealogy

Senior's Interests and General Information
Online - Everyday Activities
Investments, Stocks & Shares
Programming
Web Design